Master's Degree in Education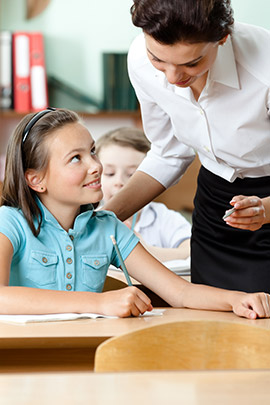 Want to become a teacher or advance in your current teaching career? In partnership with NTEC, National Louis University offers an on-the-job, earn while you learn Master of Arts in Teaching degree (M.A.T.), which can lead to Illinois teacher licensure for the 2014 school year in the following areas:
Special Education
Elementary Education
Early Childhood Education
At NTEC, all of our programs are offered with an option for a Bilingual or an ESL endorsement. Our instructors strive to meet your individual needs and make sure you have the attention and support you need to succeed.
As a student enrolled in our on-the-job alternative certification track, you can begin working as a full-time paid teacher after as few as 11 weeks of coursework. This allows you to continue the program while working as a teacher and gaining valuable experience in real classrooms working with real students.
This program is designed to help you earn your teaching license and Master's degree in Education while working as a full time teacher for two years. If you're ready to take the next step in your teaching career, Learn more about the alternative certification program » 
Contact NTEC today to learn more about our alternative Illinois teacher certification/licensure program for the 2015 school year and our accelerated education degree opportunities! We would be happy to answer any questions you have about this program or help you enroll.