Alternative Certification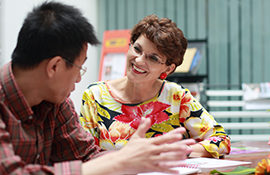 The Alternative Teacher Certification program is an on-the-job teacher certification and Master's degree program that allows you to enter the classroom as a full-time teacher after one (1) academic term of coursework, earn your teaching license after your first year of teaching, and complete your Master of Arts in Teaching from National Louis University by taking 4-6 additional courses. From beginning to end, the program can be accomplished in as few as six (6) academic terms while working as a full-time teacher starting in the second term.
HOW IT WORKS
This alternative education program is organized into three (3) parts: Jump Start, Apprenticeship and Master's Completion.
JUMP START – 1 TERM
During Jump Start, you will continue working at your current job as you prepare to enter the classroom by taking coursework in which you will develop a classroom management plan and lesson plans for your first weeks of teaching. You will need to pass the subject matter content test(s) in your area of certification if you have not yet done so.
APPRENTICESHIP – 3 TERMS
During your Apprenticeship, you will begin working as a full-time paid teacher with responsibility for your own classroom. You will be supported by a Teaching Coach, who will work one-on-one with you to develop the skills needed to succeed in the classroom. Coursework will be offered in a blended format of evening/weekend classes and online work. Upon completion of your Apprenticeship, you will earn your alternative teaching licensure.
MASTER OF ARTS IN TEACHING – 4-6 ADDITIONAL COURSES
After you have completed your alternative teacher certification, you will continue to pursue your Master of Arts in Teaching degree from National Louis University by completing 4-6 additional courses.
OTHER INFORMATION ABOUT OUR ALTERNATIVE EDUCATION PROGRAM
All classes are offered in an online, blended format. Face-to-face sessions are held at one of National Louis' convenient campus locations. The program is designed to allow you to work while you earn your certification/licensure and Master's degree. During the Jump Start phase, courses are offered in the evening or on the weekend so you can maintain your current employment. During the remainder of the program, you will work as a full-time paid teacher. The salary schedules for most districts allow you to earn a raise once you have completed your Master's degree.
Students who do not secure job placement in the alternative teaching certification track may transfer to the traditional track Master's program. Because of differing requirements, this may lengthen the course of study. If you are interested in making this change, please consult with your assigned NLU Academic Advisor to map out the details of your program.
Contact NTEC to learn more about our alternative teacher certification track and see how you can earn a teaching degree while working as a teacher at the same time!
All students are eligible to apply for financial aid.