ESL Endorsement and Bilingual Teacher Endorsement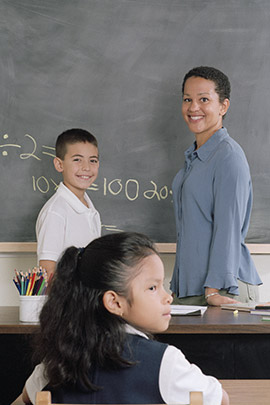 Bilingual and ESL teachers are in high demand in today's schools.
All of the Alternative Certification Programs offered through NTEC by National Louis University are offered with an optional  Bilingual and/or English as a Second Language (ESL) Endorsement. 
In Illinois, a Bilingual or ESL certification – or endorsement – can be added to any teaching license. NTEC can help you earn your ESL and/or Bilingual education endorsement while you are participating in the alternative certification program to earn your elementary, secondary or special education license.
While related, bilingual and ESL teachers provide different services to English Language Learners (ELLs) in K-12 schools. Bilingual teachers teach students across all subject areas using the students' native language as necessary to ensure learning. As such, bilingual teachers must be fluent in English and at least one other language. ESL teachers do not need to know the student's native language. Their role is to teach students English. The two roles go hand-in-hand in the education of English Language Learners. Bilingual teachers make sure that students do not fall behind academically while they are learning English and ESL teachers help students to learn English.
ALTERNATIVE CERTIFICATION FOR BILINGUAL TEACHERS
Bilingual teachers may work in a bilingual classroom while participating in the alternative certification program in elementary, special or secondary education. At the end of the program, successful candidates will earn their teaching license as well as their Bilingual Endorsement. This is possible because Illinois law provides an option for teachers who can demonstrate language proficiency to work provisionally as bilingual teachers while they complete the coursework to earn a bilingual endorsement.
The bilingual teacher education program is especially beneficial to teachers who are working on a Type 29 (Traditional Bilingual) license. It allows them to earn their elementary, secondary or special education license and their Bilingual Endorsement while continuing to teach.
You can complete the bilingual teacher education program while teaching in a bilingual classroom if you have never worked on a Type 29 license or have at least one year of eligibility left on your Type 29 license.
Like other students in the Alternative Certification Program, you will be able work as a full-time paid teacher during the program.
ALTERNATIVE CERTIFICATION FOR ESL TEACHERS
Candidates may also earn their ESL Endorsement along with their elementary, secondary or special education license. However, current Illinois law does not permit teachers to work as ESL teachers during the alternative certification program because the ESL endorsement is an add-on to a teaching license. While candidates may work as teachers during the ESL program, the ESL endorsement is not added to the candidates' credentials until they earn their elementary, secondary of special education license.
Nonetheless, we recommend that all candidates take ESL program coursework while participating in the alternative certification program. There is a strong demand for ESL teachers in Illinois schools, and all candidates are well served to graduate with the ESL Endorsement.
If you are interested in earning your Illinois ESL certification/endorsement, contact NTEC today to learn more!
Qualifications
Qualifications for Admission
Candidates must be admitted to either the elementary, secondary or special education program
There are no additional admission requirements for Bilingual or ESL candidates
Qualifications to begin Teaching
Meet all the requirements for the certification program that you were admitted to
There are no additional requirements for ESL candidates
Bilingual candidates must pass the Target Language Proficiency Exam matching their language skills prior to teaching in a bilingual classroom

Spanish speaking bilingual teachers who completed their undergraduate degree at an English speaking institution of higher education must pass Illinois Certification Testing System test # 056 – Target Language Proficiency Exam in Spanish
Spanish speaking bilingual teachers who completed their undergraduate degree at institution of higher education where the language of instruction was Spanish must pass Illinois Certification Testing System test # 055 – Target Language Proficiency Exam in English
Candidates who are bilingual in another language should contact an NTEC admissions representative to learn about the testing requirements
Qualifications to earn Licensure
Meet all requirements for the certification program that the candidate is admitted to
Qualifications to earn a Master's Degree 
Successful completion of all coursework in the alternative certification program
Successful completion of 4-6 additional graduate courses approved by your National Louis academic advisor